Materiality


(Key Corporate Sustainability Issues)


of the Noritsu Koki Group

In moving towards the realisation
of a sustainable society,

the Noritsu Koki Group
has identified 4 corporate materialities.
MATERIALITY FRAMEWORK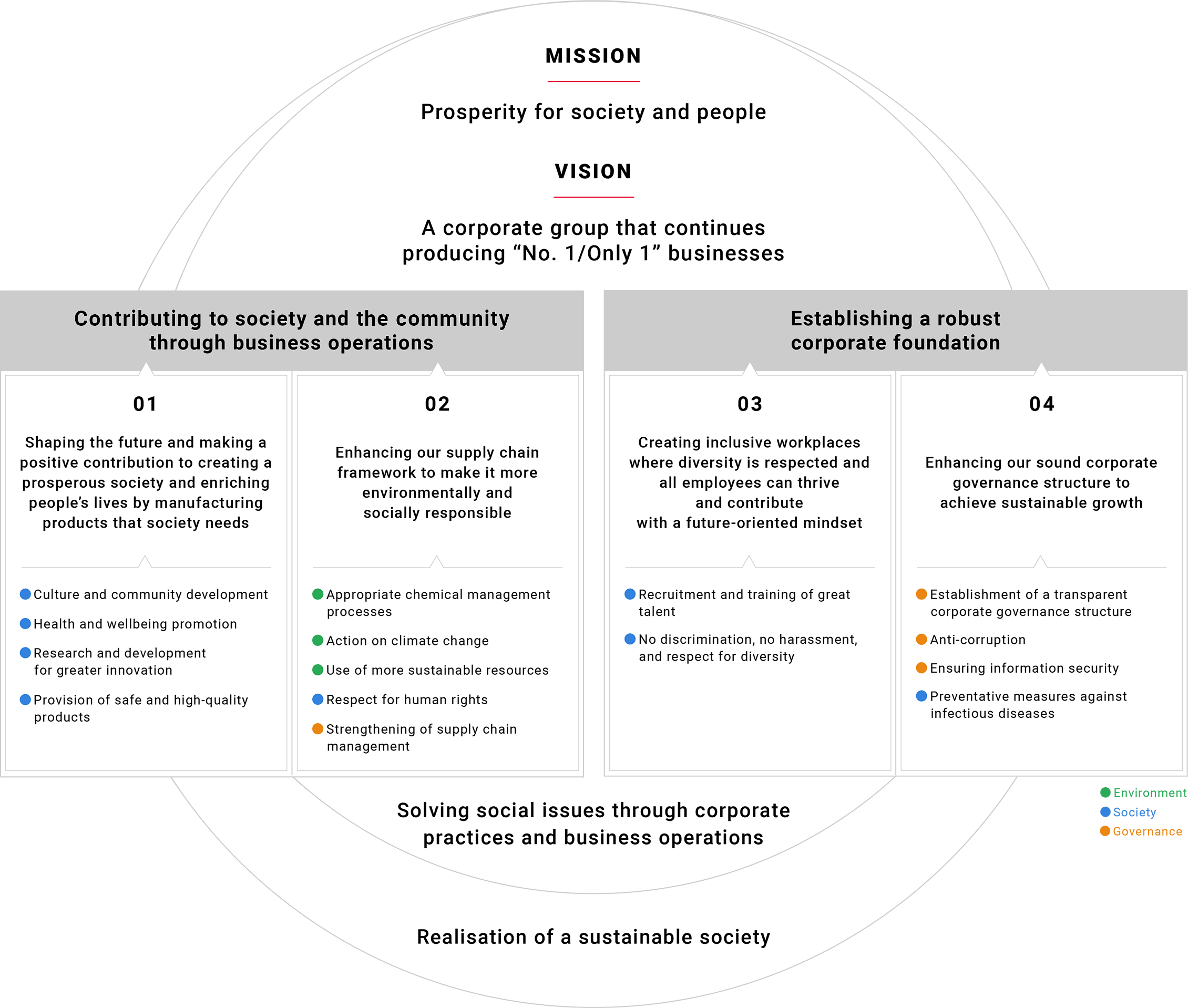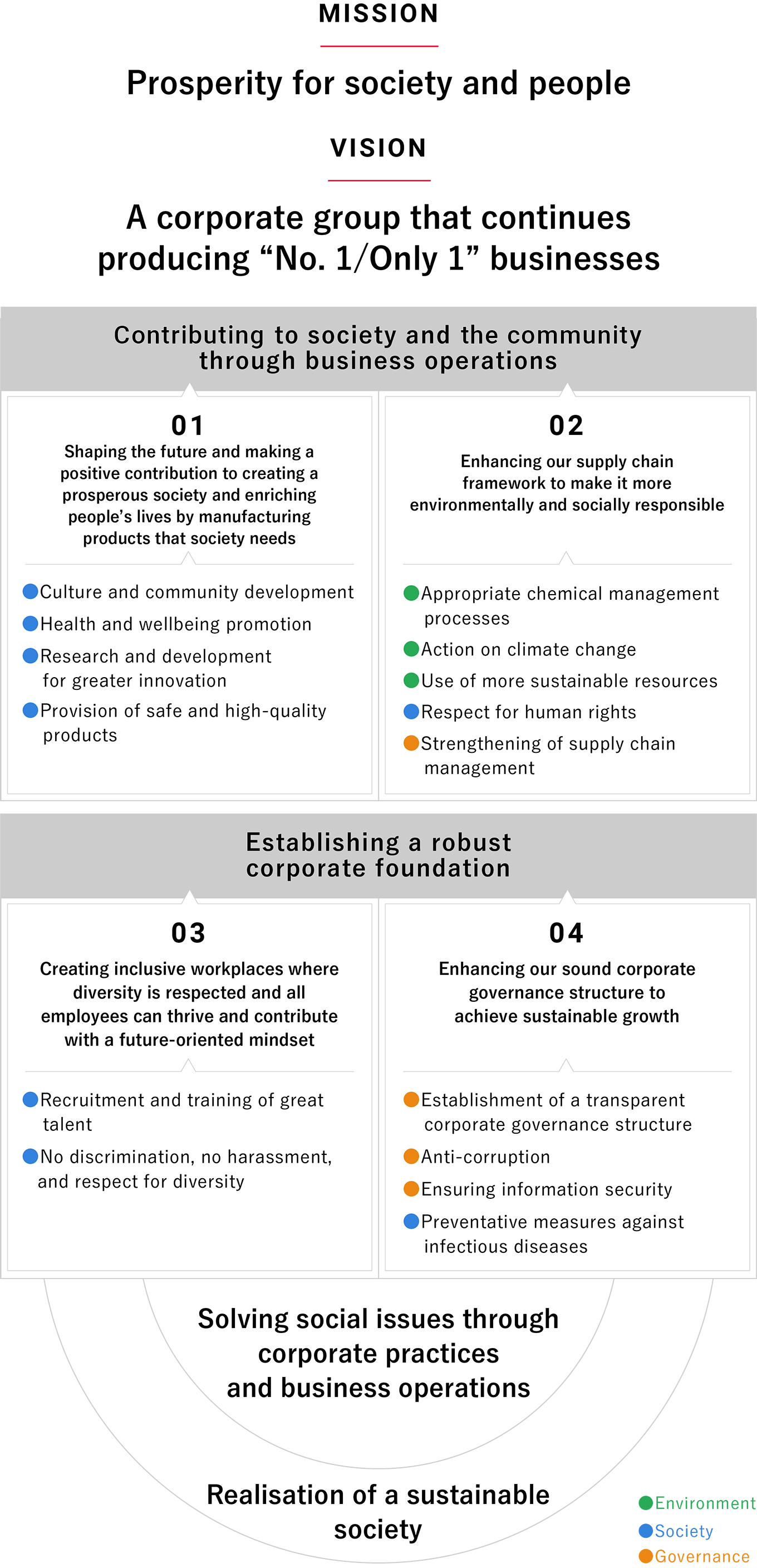 MATERIALITY ASSESSMENT PROCESS
The Noritsu Koki Group has identified its materialities by conducting its materiality assessment based on the following processes with cross group co-operation and the help of external advisory experts.
STEP1
Identify potential
social issues
and impacts
Working to incorporate diverse stakeholder expectations, we used 11 different globally-recognised sustainability standards such as ESG disclosure guidelines, evaluation criteria provided by ESG evaluation agencies, and codes of conduct. We performed an analysis on sector-specific material issues and identified 31 potential social issues that impact our business in order to define our materiality.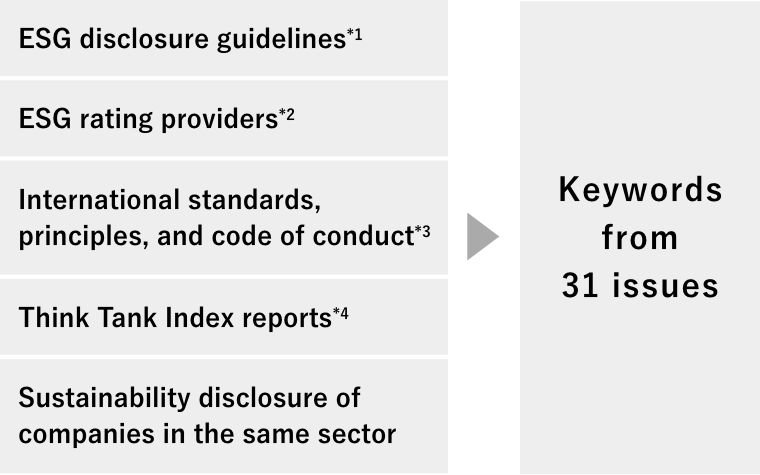 *1 GRI Standards, SASB Standards
*2 DJSI (RobecoSAM), FTSE, MSCI
*3 SDGs, ISO26000, Ten Principles of the UNGC, OECD Guidelines for Multinational Enterprises
*4 World Economic Forum(WEF)"Measuring Stakeholder Capitalism", "Resolving Societal Issues Through Innovation — Listings of Societal Issues" FOR CO-CREATING THE FUTURE
STEP2
Assess and
prioritise material
topics
The 31 social issues selected in Step 1 were evaluated and weighted using a scoring method, incorporating the views of stakeholders and Group businesses, and prioritised according to the following criteria.
1) Stakeholder Input: assessment based on the relative interests and importance of stakeholders by external advisory experts and scholars.
2) Business Impact and Values: reassessing the evaluation scores provided by our 4 major group businesses based on the business impact and values of the Noritsu Koki Group.
As a result, we identified 15 social issues that matter the most to our business and stakeholders.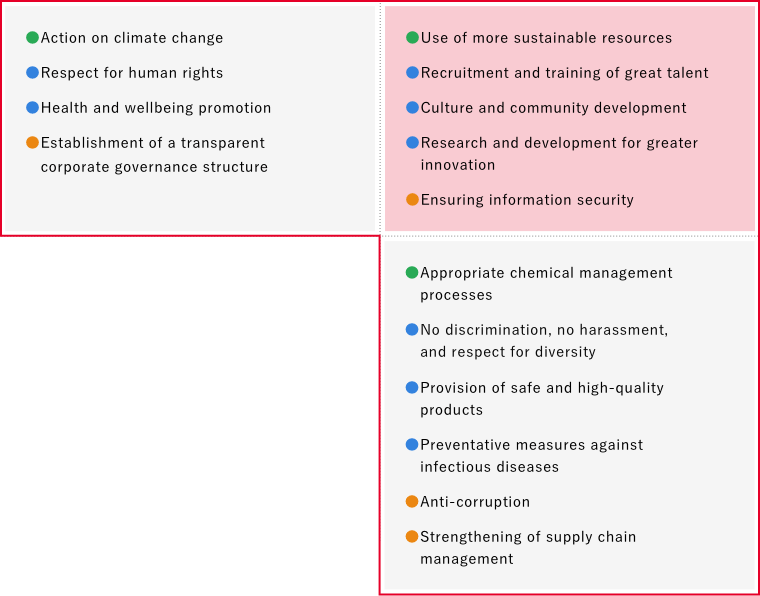 The 15 potential social topics selected in Step 2 were clustered into groups on the basis of our MVV and business model. We refined a list of core corporate material issues that could highly affect our business.
Having had insightful feedback from external advisory experts and far-reaching discussions with senior management including our CEO, we integrated them into 4 significant material topics that need to be addressed and worked on as a group.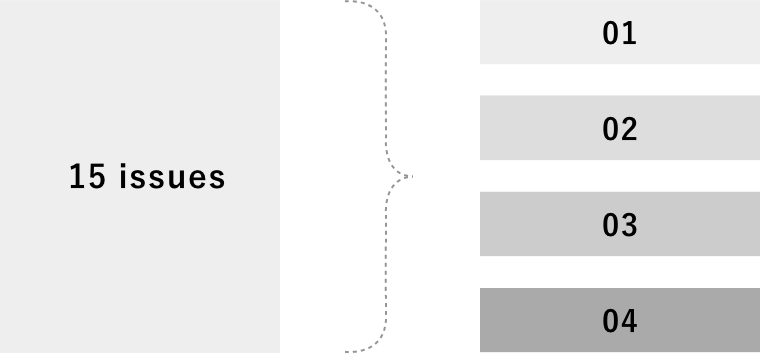 STEP4
Determine and
disclose the
materiality
We designed a materiality matrix and validated the credibility of the identified 4 material issues. Approved by the Board of Directors, we finally defined them as the Noritsu Koki Group's materialities.
MATERIALITY MATRIX
We designed the materiality matrix using "Priority for stakeholders" and "Priority for business".
We selected topics with high scores (i.e. indicating the level of priority) for the social issues that our Group needs to address.